Container Registrations




May 2015

Release date:
30 June 2015

---

May 15

Apr 15

Mar 15

Feb 15

---

Total

760

684

648

469

Business

455

412

375

257

Private

305

272

273

212

---
Registrations continue to rise over May
Total number of container registrations continued to increase by 11.1% over the month. This was driven by rises in both private and business container registrations. Over the year, container registrations rose by 17.9% due to increases in both private and business container registrations. The monthly increase is not consistent with the traditional seasonal trend of container registrations decreasing over May. This anomaly could be due to preparations for upcoming festivities such as the coronation and church conferences. The yearly rise could also be supported by the same reasons. Furthermore, the evident expansion of roadside stalls and fairs indicate higher activity in the informal sector coinciding with the increase in container registrations.
On the outlook, the NRBT expects container registrations to continue increasing due to scheduled events for the months of June and July. Additionally, on-going construction projects and other special preparations are anticipated to drive a rise in container registrations and also imports. These upcoming events are also expected to have spillover effects on the trade, tourism, and construction sectors. However, the rise in imports is expected to exert downward pressure on the foreign reserves. The NRBT will continue to closely monitor the country's economic and financial conditions in order to maintain an adequate level of foreign reserves and promote price stability.
---

Container Registrations




Total Number of Containers

---

Month ended

Year ended

Share of Total

May 15

Apr 15

Mar 15

May 14

May 15

May 14

---

Total containers

760

684

648

447

8,233

6,981

100

Business

455

412

375

238

4,841

4,029

59

Private

305

272

273

209

3,392

2,952

41

---

Source: Tonga Ports Authority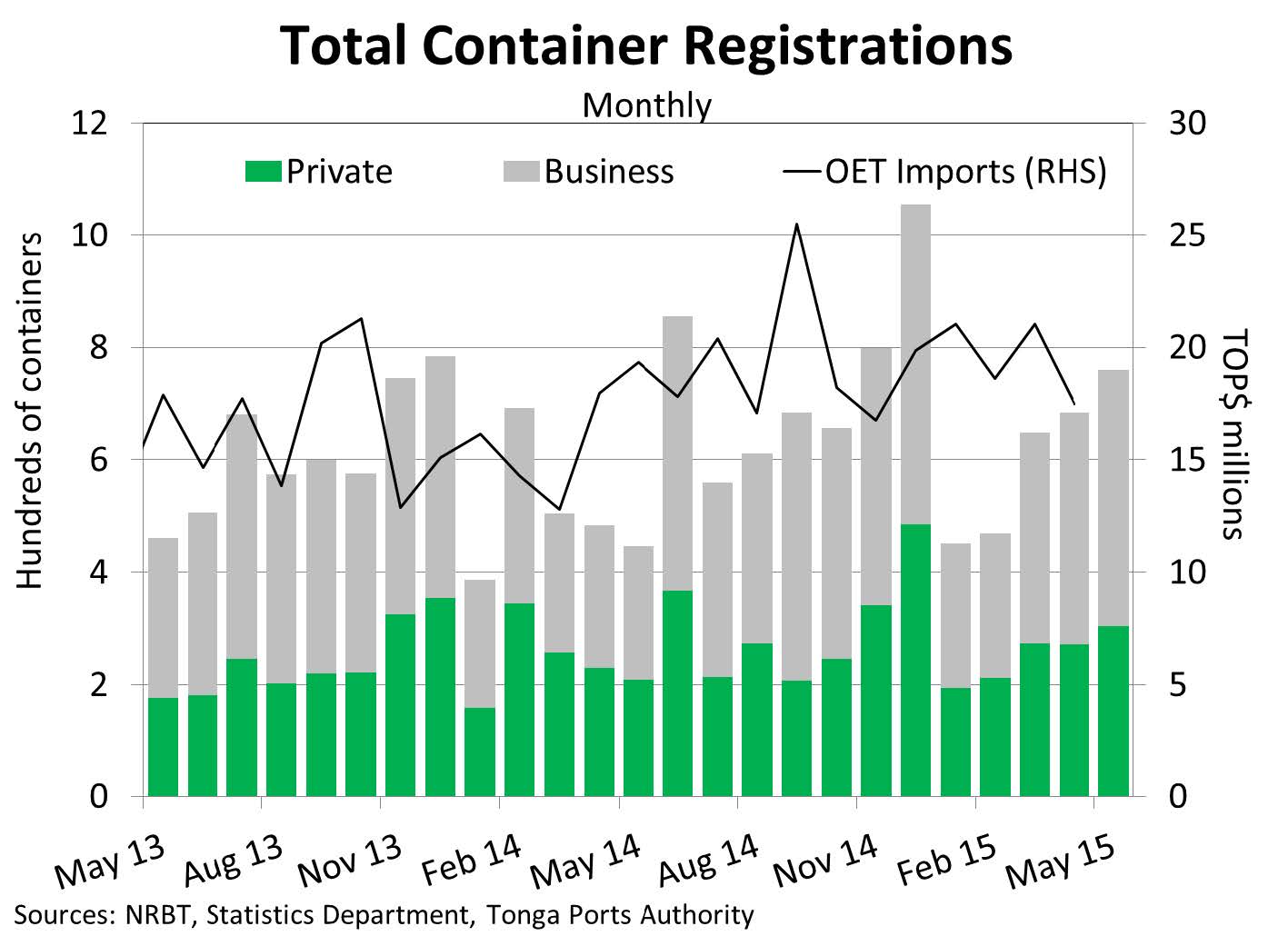 Download a copy of the latest Container Registrations Report for more details.