Container Registrations




June 2015

---

Jun 15

May 15

Apr 15

Mar 15

---

Total

1,072

760

684

648

Business

599

455

412

375

Private

473

305

272

273

---
Highest number of registrations
Over June, the total number of container registrations rose by 41.1% to 1,072, the highest number on record yet. This was driven by increases in both private and business container registrations. The monthly increase could be due to festivities and special events scheduled for June and July, which include the coronation, Heilala festival, school anniversaries, and church conferences. In addition, banking data shows that import payments rose by 44% over the month of May, indicating potential lag effect which coincides with the increase in container registrations. Furthermore, business and household loans increased by 2.2% and 0.25% respectively further supporting the monthly rise. Similarly, the annual number of total container registrations increased by 15.3% with private and business container registrations increasing by 11.4% and 18.2% respectively.
On the outlook, the NRBT expects imports and consequentially container registrations to generally increase in the new financial year. Banking data for June shows an increase suggesting a lag effect, indicating higher imports for the upcoming month and possibly exerting downward pressure on the foreign reserves. On-going construction projects and other special preparations are anticipated to drive the rise. These upcoming events are also expected to have spillover effects on the trade, tourism, and construction sectors. The NRBT will continue to closely monitor the country's economic and financial conditions in order to maintain an adequate level of foreign reserves and promote price stability.

---

Container Registrations




Total Number of Containers

---

Month ended

Year ended

Share of Total

Jun 15

May 15

Apr 15

Jun 14

Jun 15

Jun 14

---

Total containers

1,072

760

684

855

8,450

7,329

100

Business

599

455

412

487

4,953

4,191

59

Private

473

305

272

368

3,497

3,138

41

---

Source: Tonga Ports Authority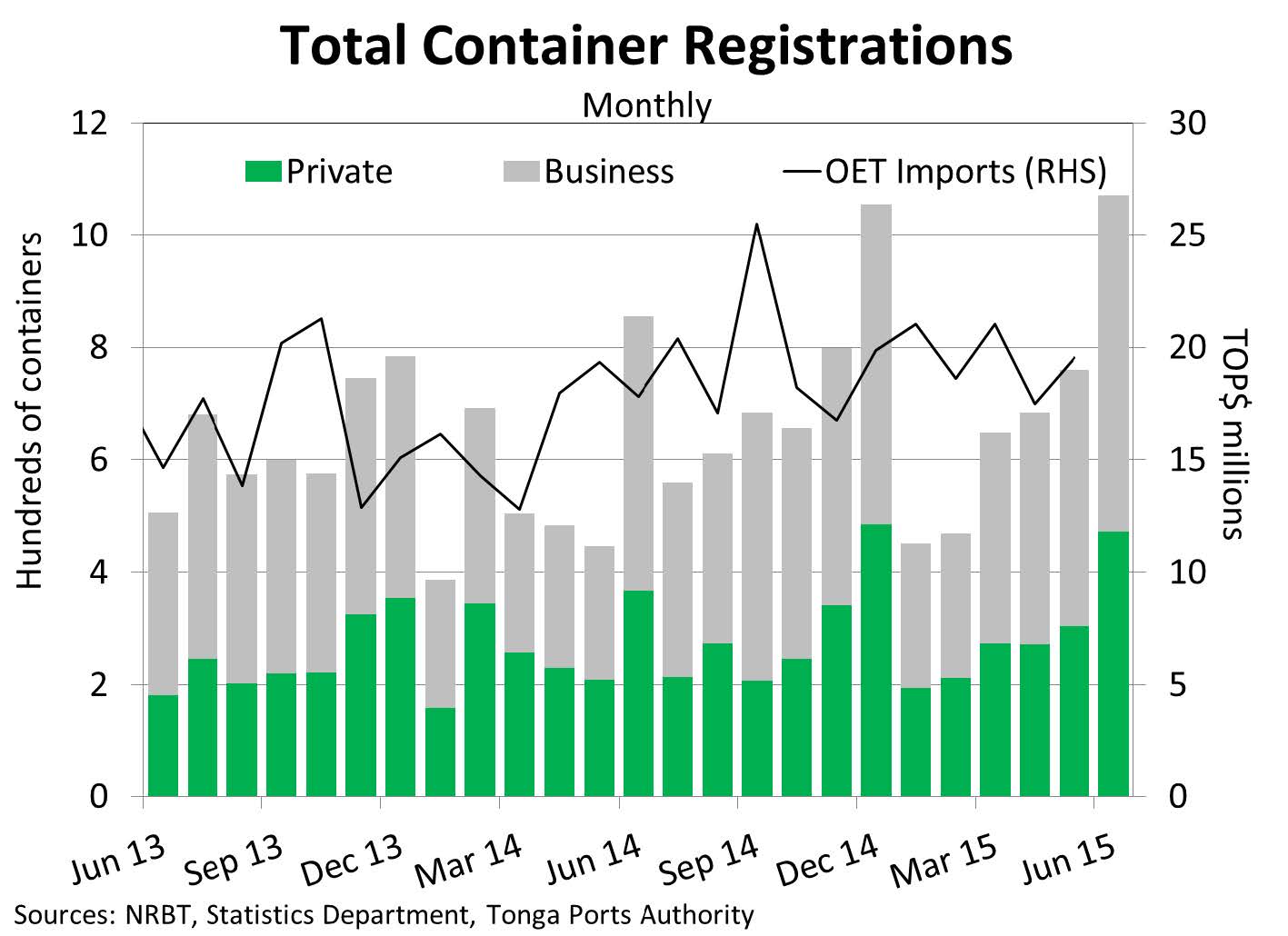 Download a copy of the latest Container Registrations Report for more details.